1 tag
4 tags
7 tags
8 tags
9 tags
9 tags
9 tags
5 tags
FTL Is Ruining My Life
Faster than Light, why do you exist? I would get so much more done if you did not.
5 tags
The Elegant Game of Go
If there is one lesson to learn from playing Go, it is that elegance does not equal simplicity. Go's deceptively simple rules create deep strategy and elegance, but are by no means simple in their implementation. What does it mean to "get good" at Go? One way to evaluate it would be reading ability. Reading sequences longer than about ten stones is still tricky for me, and I often...
7 tags
Chaos
You don't need Rules of Play to describe the feeling of chaotic or uncertain systems, or positive feedback cybernetic systems; try managing a classroom of sixth-graders on a Saturday afternoon.
2 tags
Dollar Coffee
Got a small coffee from the Mud Truck for a dollar today. Game Design. Gaaame Designnn. Maybe if I say it enough it will spiral into meaninglessness. I've spent so much time talking, thinking, and doing game design in these past weeks that I'm actually actively seeking ways to not do something game-related. A lot of my classmates are thinking similarly, the irony of which is fully...
10 tags
Watch
Things Steve Swink had me do. You can't tell when the video is playing at full speed, but the point is to step frame-by-frame in order to determine how long it takes the game to respond after an input. Mirror's Edge did very well, having a 100-130ms response time it was well under the roughly 250ms needed to create an illusion of real-time.
7 tags
Game Feel with Steve Swink
I'm posting this late because I forgot to come back and finish the entry after I went to bed. I wrote most of it in the few days after the Game Feel master class with Steve Swink. I spent the weekend completely nerding out with fellow game designers at a master class taught by Steve Swink at the NYU Game Center. His topic was "game feel," which I understood more verbosely as...
7 tags
That other reaction
I also get another kind of reaction when I tell someone that I'm studying Game Design. "Nice. There's a lot of money in that! I have a [friend, nephew] who works for some company doing some sort of…thing. He does stuff on computers." (Slight hyperbole, but I really have had people respond this way.) I'm not in it for the money. If I were, it probably would...
10 tags
What I think about when I think about Game Design
When I tell people that I'm getting a master's degree in Game Design, I get one of two reactions, without fail. The first is the most pleasing: their eyes open up and they exclaim how the world is a much happier place now that students can receive degrees in games. "You're in school, now?" "Yeah, I'm getting my Master's in Game Design."...
Reboot
It's been a while since I posted anything. Part of that was because I was caught up in finishing my undergrad thesis and couldn't be bothered writing posts about my thesis when I should be writing it. More generally, I was conflicted about what Massively Immersive should be. I was trying to produce "content" for some kind of imagined readership, instead of writing for my...
9 tags
Artemis and Emergent Narrative →
Ben Kuchera of the Penny-Arcade Report posted an article on the capital ship space flight sim Artemis, today. Six people, one capital ship. You and your crew fly the ship, together. It can have a game-master. It has LAN capability. It's super nerdy. Check the video. Aside from the sheer epicness of the game, I wanted to highlight the designer, Thomas Robertson's, arguments on...
gagaskitchen asked: Please use the 'Read More' function when making text posts :)
5 tags
Guild Wars 2 Beta Weekend Review
I've completed my "Senior Capstone" project, and now I have more free time than I know what to do with. Of course, I spent a lot of that time playing games. Last weekend was the first Guild Wars 2 beta weekend event, and it was definitely as much fun as I had anticipated. Here's the main character I used throughout the beta, Reisc, a Charr Mesmer. I was quite pleased when...
7 tags
Guild Wars 2 Microtransactions
Mike O'Brien, President of ArenaNet, recently wrote a short article about the microtransaction system in Guild Wars 2. They're currently rolling out preliminary systems for the ongoing beta tests and it has caused a huge fuss which you can observe on YouTube and other blogs. Here's what O'Brien has to say about the philosophy behind how they have designed the system: Here's...
10 tags
Spoilerth
MASS EFFECT 3 SPOILERTH. Kidding. I can't play ME3. Kind of can't. …Shouldn't play? My point is that I only have a lackluster word-processor/YouTube-watcher laptop right now. If I wanted to play ME3 I'd have to cope with either Mass Effect in Ballet or some sort of lo-rez pinhole edition. I'd rather wait until I acquire a PC that can respectfully handle the game...
7 tags
I'm Freeeee!
Freeee faaaaaalin' Ahem. Did you ever play Tribes? I never played the game all that much. I was curious, however. The sheer ridiculousness of trying to shoot people while moving at 150+ km/h was too much to pass-up. My friends and I tried to play it during one of our LAN parties, but we were all horrible at it and we never got around to playing it. We just stood there and jet-packed around...
2 tags
I want Guild Wars 2
The press beta of Guild Wars 2 was released last weekend. I'm not sure if there's any better way to express the reception it has been getting than: I want to play it right now, and even from the little bit that I've seen so far, I would pre-order it. I haven't been excited enough about a game to pre-order it since the disaster that was Phantasy Star Universe. I'm much...
Break
Too much OpenTTD and conference preparation. I'll be back next Monday.
8 tags
The Real is Unreal
I was browsing the archives of Game Studies and I found an intriguing article by Vili Lehdonvirta in the April 2010 issue. He argues against the "dichotomous 'real world vs. virtual world" model" and proposes an alternative model based on Anselm Strauss's social world perspective. Now, arguing against false dichotomies is a wonderful endeavor. I fully support it, and...
5 tags
Potato Batteries
This weekend, I finally got around to playing Portal 2. Quite late, yes, I know. It was good. I enjoyed it. I'll probably play it again with the commentary. Portal has become so integral to videogame studies—be it design, criticism, literary, or otherwise—that you can't avoid reading them or discussing it. In order to make your way around the rapidly growing literature on...
7 tags
Essence of Game
The final installment of the discussion between friends in League of Legends.  D (7:30): So is there some sort of "essence of game"?    simply trying to define what a game is becomes really difficult    and then computers screw everything up    From what I've read so far, it seems like the most important thing about video games is that it allows us to escape the body    (cue...
6 tags
Critical Hit
A continuation of the discussion between friends in League of Legends. D (7:00): You should check out DiGRA    I'm starting to notice the hubs of research in this field    a large bulk of it is coming from Scandanavia and Denmark    IT University Copenhagen seems to sponsor everything     (7:02): Jesper Juul being the most well-known alumnus    then you've got Rules of Play by Salen...
7 tags
MMORPGs and Game Typology
A discussion between friends in League of Legends. D (6:30): Have you ever seen the documenary Second Skin? W (6:30): I haven't    huh, that looks like it could be interesting D (6:31): Yeah I'm watching it right now    It's kind of bizarre watching it though W (6:32): how so? D (6:32): it kinda seems like the general psychology surrounding MMOs has shifted in the last few years...
5 tags
Microsoft Roguelike
I've spent some time reading Jane McGonigal's Reality is Broken in preparation for my capstone research project and an upcoming conference paper. TL;DR of it is not too far from the subtitle on the cover: games are doing some amazing things, so why aren't we using what we know about games to make life better for everyone? Life should be more like a game, rather than less like...
5 tags
LoL Sejuani Patch/ Asymmetric design
This post is going to be a little specialized, since I'm going to discuss a gameplay change in League of Legends (LoL). The TL;DR of it is that I believe the removal of dodge as a global champion statistic is a great example of the problems that result from of imbalanced game design. The folks at Riot have discussed their rationale for removing the dodge stat, and studying their explanations...
2 tags
An ongoing discussion on immersion
I've been playing a lot of billiards recently. My school recently put a pool table in out cafe/gameroom, and it's been in nearly constant use ever since. There's just something about the physical presence of a traditional game that video games have yet to match. Sorry, beloved technology! Anyhow, this morning Raph Koster posted about immersion on his blog. Rather than split the...
7 tags
Regret in Mass Effect 2
How does a gamer college student who's doing a game-related capstone project spend his winter break? Why, playing video games, of course. This break's collection was dominated by four games, the first of which I will discuss in this post. Shepard (right) and Tali (left). Mass Effect 2 I powered my way through the game in a couple days, clocking in at around 19 hours from start to...
10 tags
Three examinations of the attraction of The Elder...
 You might remember that Bethesda made this game a couple years ago. It was called The Elder Scrolls IV: Oblivion. No, there weren't any dragons. Yeah, back then all the characters' faces still looked like they were made out of marshmallows with makeup painted on. Yes, the dialogue was really hokey (but, at least you had a few fleeting moments with the captain of the Enterprise). No,...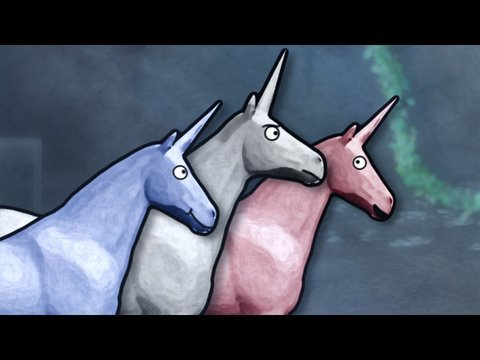 7 tags
Everybody Poops, or the Body vs. the Game
Happy New Year, everyone. Hope you had a fun weekend! So, I watched the documentary Second Skin a couple days ago, and I had a rather long discussion about the film with one of my friends afterward. We talked about game studies and literary theory and game addiction. Funnily enough, we talked about it within a game. As I was falling asleep, I realized something a little bizarre about the...
1 tag
5 tags
"[A game] is a dynamic, real-time hermeneutics that lacks a corresponding..."
– Espen Aarseth
5 tags
The Game and the World
"Real becomes not-real when the unreal's real. Though Not-real was once Real, the Real is never unreal." -Cao Xueqin, The Dream of the Red ChamberThe discourse on reality has pervaded human history and human communication. The Tale of Genji. The Suffering's of Young Werther. Hip hop. Reality TV. The Dream of the Red Chamber. Alice in Wonderland. BioShock. The Bible. 1Q84. Are the...
6 tags
Biography
5 tags
FICTIONCEPTION
I created the diagram for a term paper I recently completed. I wanted to provide an example of the complexities of managing the numerous meta-fictions that exist inside, outside, and because of a text. The diagram doesn't show every kind of meta-fiction that exists, of course. I simplified it to only the Reader-Author-Object/Character interaction, but adding in the other...
4 tags
[ videogames : ? ]
What makes a videogame different than a game? Let me try to answer this question using paradigms. Games, then, are the paradigm opposed to videogames. This paradigmatic opposition can be expressed in the form: [ videogames : games ]. The apparent difference between videogames and games is "video". On the level of the medium that a game uses, this analogy is true, yet, peel away...
7 tags
Dungeons:Dragons...Semiotics?
Dungeons and Dragons (D&D) uses an "alignment" system to describe the moral characteristics of any player character, which you may or may not know, depending on your nerd quotient. The basic alignment system opposes good and evil, lawful and chaotic, and includes intermediary "neutral" alignments such that alignments fall on a 3x3 grid as such: Lawful Good Neutral...
3 tags
Analogical Immersion Theory
Immersion only makes sense as an analogy in the form of [ immersion : X ], that is to say, immersion must be opposed to something which it is not. When we say that someone is immersed in an MMORPG, our statement implies that the player is not immersed in something else, i.e. their real life; we also imply that they are not merely paying attention to the game, but also becoming part of the...
11 tags
The Immersive Experience
What do The Tale of Genji, Dune, Harry Potter, and Star Wars have to do with each other? Not a whole lot, if you compare the details of each story. Sure, Star Wars and Dune are both American Sci-Fi from the same era, so they are more alike than the other two stories. And, yes, these two stories, along with Harry Potter share a traditional heroic plot structure: the down-and-out orphaned male hero...
4 tags
I'm alive!
I'm still alive! I've been busy with graduate school applications and publishing the latest issue of my school's student news-magazine. If you haven't had any experience with self-publishing, it's quite tedious and not that exciting. (At least we have a new printer that can staple and fold; we used to fold and staple by hand.) The result, however, can be...
6 tags
The Real, the Virtual, and the Money
Photo: Jan Brasna @ FlikrREAMDE has a plethora of amusing vignettes, mostly between Richard and his employees, that portray gamer culture and the confusions that result when two people with vastly different expertise levels discuss games. In the particular episode I use in this post, Richard and Corvallis disagree on the "realness" of games. (Though, in my opinion, the confusion occurs...
9 tags
REAMDE: Some thoughts
I've finally read through enough of Neal Stephenson's new novel, REAMDE, to make some comments about it. First things first, though. Here's a great video that PBS put out on the interwebs about a week ago. Back to REAMDE. This post won't be very spoiler heavy since I'm only addressing the first third of the book, but if you're worried about spoilers,...
7 tags
What I'm playing
Another Humble Bundle is out, about, and gleefully eating all of our money. Think of it like Humble Bundle goes UNICEF. Is it just me, or are they releasing these bundles with ever increasing frequency? But who cares, it's for charity!  (They recently added Blocks that Matter and The Binding of Isaac to the bundle, as well.) Voxatron is a blast, by the way. I've been sneaking in a...
11 tags
[Blogroll] Cooooool
Are videogames a medium? Ian Bogost thinks they are, but Michael Tomsen says that they aren't. See how Bogost responds to Tomsen's review of his latest book, How to Do Things with Videogames. I'm leaning more toward Bogost's argument, but Tomsen's critique has merit, as well. Distinctions between genres, kinds, or mediums tend to exude a smell of arbitrary when you...